This post is also available in: Español (Spanish) 繁體中文 (Chinese (Traditional)) Tiếng Việt (Vietnamese)
It sure is hot out there, isn't it? ☀️😰 (Depending where you are of, of course.)
The summer heat doesn't stop the myViewBoard team, though. We're here again to tell you what's new in August 2022.
Manager Update and New Look
The big logo update dropped last month, and now it's time for an update to Manager. Besides updating Manager's logo, you'll also see a new color scheme to fit the theme!
You may have also noticed a new section in Manager. Manager basic users, don't miss out! A Manager Advanced button will take you to a request form for a free trial of Manager Advanced licenses. By signing up, you'll have access to licenses you can assign to devices, allowing you to broadcast multimedia, transfer files, and more! For more information on Manager Advanced, check our Wiki page for a breakdown of Advanced features and benefits.
Here are some more August Manager updates:
CDE 12 users rejoice — your devices are now supported on Manager!
Ever wish your selected devices would stay selected when you toggle to your Advanced devices list? We've got you covered 😉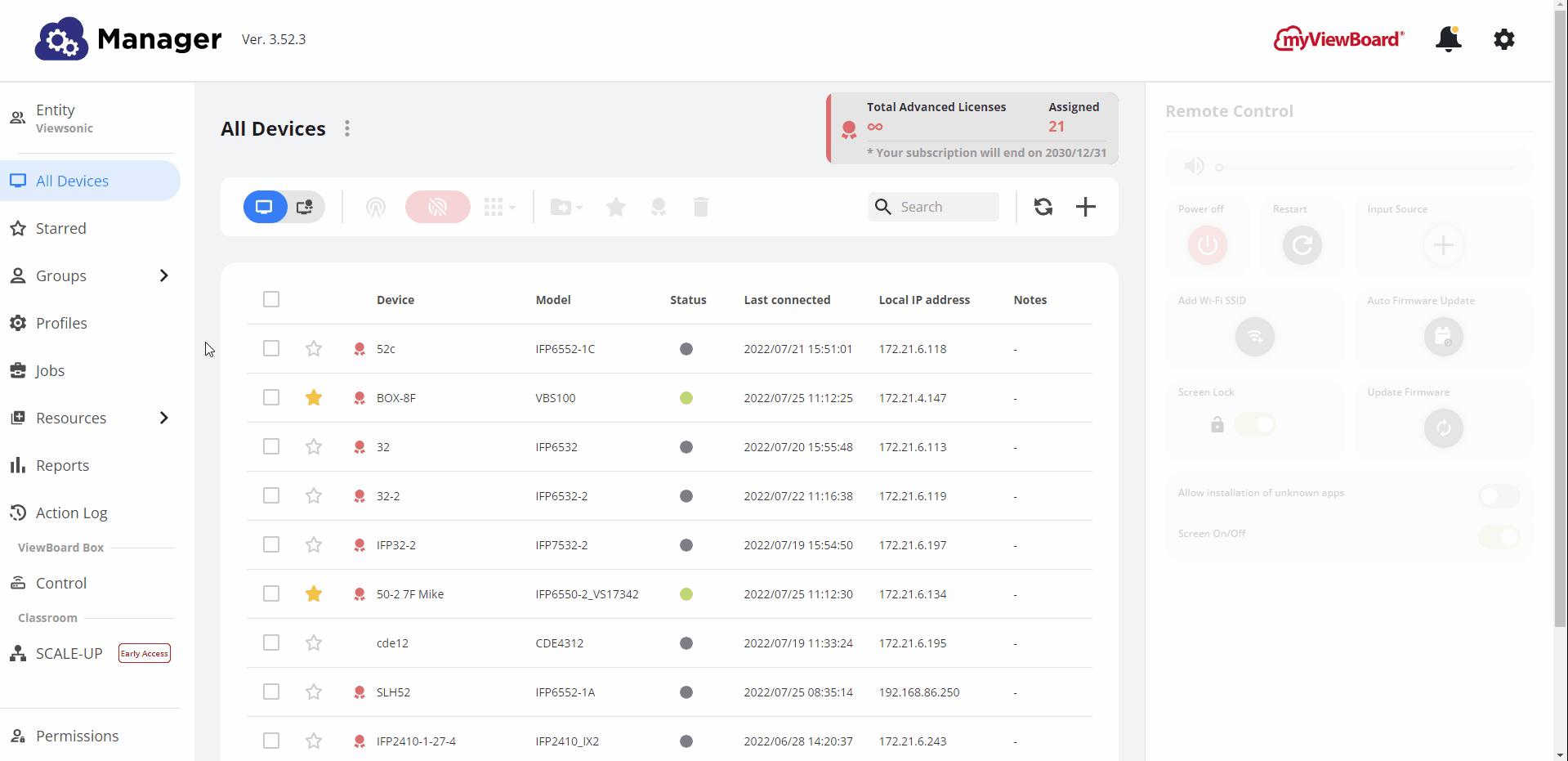 For easier media navigation, you'll notice media are now sorted alphabetically.
Remote desktop users, we hope you're enjoying this feature. You'll see some UI/UX updates:

Inform IFP users that they can now move the remote desktop notice around the screen so it doesn't obstruct buttons in other apps.
When ending a remote desktop session, you'll now see a confirmation prompt before you terminate your session.
Classroom
We have an interesting update to announce for Classroom this month for users in Taiwan. We're launching a Mandarin-Chinese phonetic symbol tool. With this tool, Chinese characters are displayed along with the corresponding Bopomofo alphabet used to pronounce the character. This provides a simple and intuitive learning tool that makes characters and phonetics interactive and easy for students to learn.
Find it in the Tools section of the Magic Box, and use it while in presentation mode.
Classroom has also been updated with performance improvements:
File importing is now speedier: You'll notice improved load times for files that contain images and objects!
You should also notice a smoother overall experience with fewer internet connectivity issues – nice 😎
Other Updates
New Originals content this month: Shape Finches, Color Your World with Kindness, Animal Master
Whiteboard users: You haven't missed anything — no new updates for August, so check this space again next month!
Just an FYI: For Whiteboard for iOS users using the free version, you can now conveniently upgrade to Premium from within the app. Maybe you already have a Premium account, but there's no harm in letting others know 😉
Finally, if you're seeking a more convenient way to sign into myviewboard.com, you're in luck: You can now sign in via QR code using the Companion app 🎯
Prepping for the New School Year
Updates may seem slower this month, but rest assured that's only because we're working hard on getting several updates ready for the new school year. We'll see you again in next month's What's New post!