This post is also available in: Tiếng Việt (Vietnamese)
Summer is officially upon us, schools are winding down, but myViewBoard doesn't quit! We've got updates, and you want to know what's new with myViewBoard in July – let's get to it 😎 🌴.
Oh, Thank You for Noticing Our New Logo Designs 🤭
The start of the summer season means it's time for a wardrobe change, right? As you may have already noticed, myViewBoard is taking the suns out, guns out approach with some snazzy new colorful logos for our various apps, along with an upgrade to our myViewBoard logo.
We hope you like it!
Big Manager Updates
We know you enjoy the practicality and ease of use of Manager, so we want to keep you happy with new updates.
First off, the Remote Desktop feature is now launched for Manager Advanced devices. You may be familiar with this type of utility through other software like TeamViewer. Now, you can remotely access ViewBoards within your Manager console. Find it by switching on your Advanced license device list, and then the Remote Desktop launcher will be at the top-right corner of a given device's remote control.
Did you notice the updates to the remote control, by the way? We've tweaked the UI so the layout is upgraded and more convenient to use across different screen sizes. Note positions have changed for some buttons.
The new ViewBoard settings lock is one of these features, giving Admins the option to lock access to a ViewBoard's settings. No more need to worry about unwanted hands changing the configuration of your devices! (Note: This is a Manager Advanced device feature only.)
Let's run down the rest of the updates:
API integration now supports "Get group list". Review the myViewBoard Open API Doc for more information.
New ViewBoard Box support for select BenQ and CTouch models. View the entire list on the Manager wiki page.
Added "None" as a Wi-Fi SSID authentication method (found within the remote control).
The Hungarian language is now supported on Manager – Szia to our Hungarian IT Admin 👋
Classroom Keeps on Growing
Classroom users, take note – the tools available in Classroom are growing every month! Here's the lowdown on July's features release.
We've improved embedded web page functionality for more interactive in-class internet navigation. Now, if you search a page and it displays within the web page tool, you can embed the web page to your canvas. From there, enter presentation mode, and navigate the site as usual. (Note: This feature does not support all web pages. In these cases, the feature will work as before: an external link will embed to the canvas.)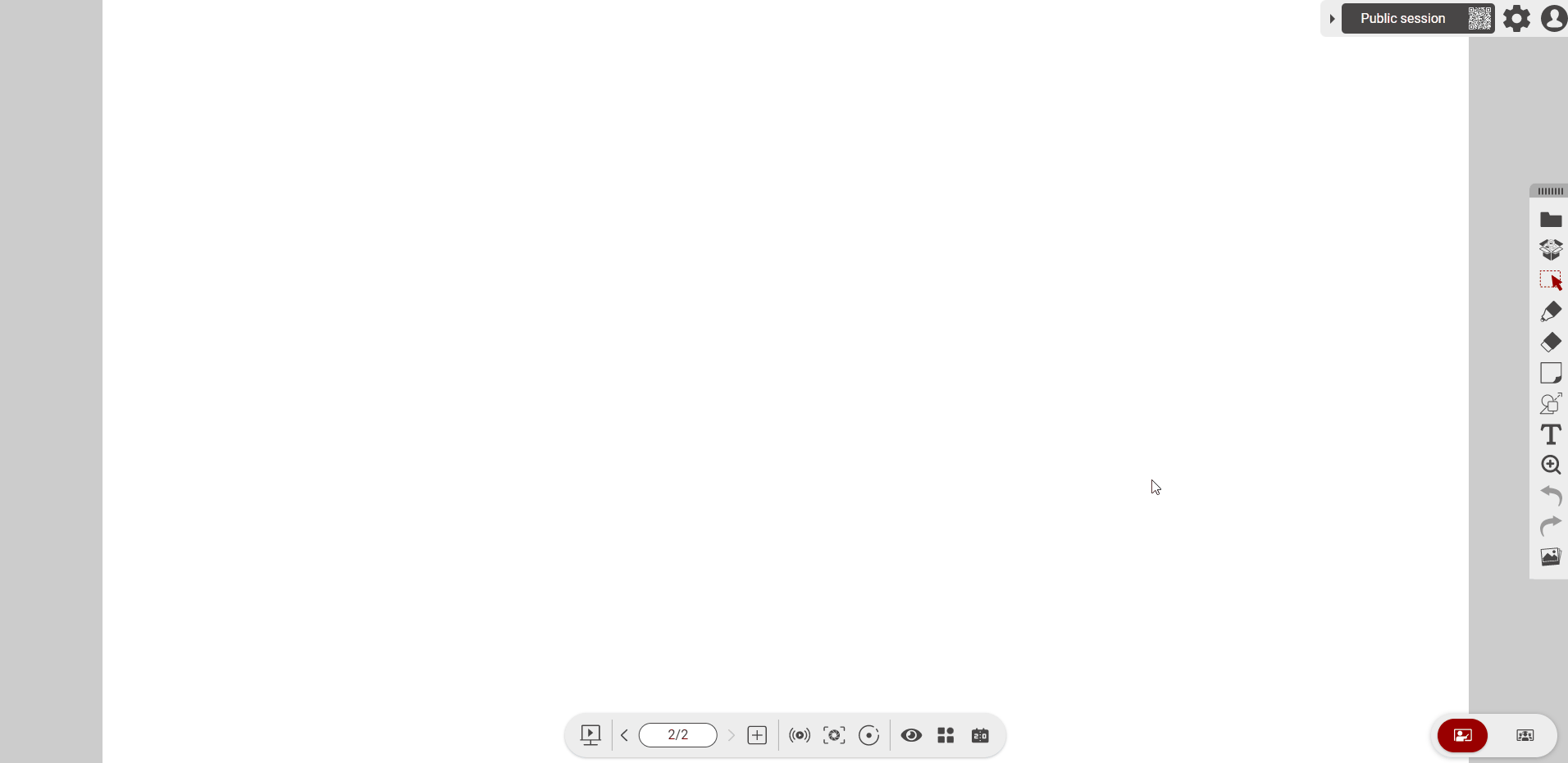 Magic Box has also undergone reorganization: Now, you will see a special Tools section. If you thought Ladder disappeared, don't worry! It's now under Tools.
Also within the new Tools is Dice. This fun new classroom engagement feature is another addition in helping you make a class session interactive and exciting. Customize up to six dice with different face types: dots, numbers, custom text, or images. Then, when in presentation mode, whether on the teacher's board or within huddles, students can also view the dice and interact with them.
More Updates
Good news: Full support for screen recording on Safari browser is here! Give it a try on Mac OS.
Finally, we hope you like the new loading screen design 😉.
Whiteboard for iOS Updates
We're hard at work at continually improving Whiteboard for iOS with all the features you deserve since the recent launch. Here's a rundown of this month's enhancements:
A new throw feature option allows hosts to throw a PDF from the Companion app and have it open to fit the width of the canvas.
The following objects are visible within Whiteboard for iOS when opening prepared lessons from other Whiteboards:

Custom shape tool: Free-hand drawn shapes
Three line types: curved, curved with a single arrow endpoint, and curved with double arrow endpoints.

Four new fonts: Bangers, Caveat, Caveat Brush, and B Garamond.
Other Improvements and Updates
Check out the following new Originals content: Animals (Vertebrates), Shape Finches
Whiteboard for iOS and Whiteboard for Android now support the Romanian language – buna ziua to our friends in Romania!
Just around the Corner
Psst…we hear robust support for Google Slides and PowerPoint is coming to Classroom. Keep your eyes on this space next month for that and more news of enhancements and updates to the myViewBoard ecosystem.
Stay cool out there and see you next month!